Blueberries: nature's proof that good things really do come in small packages. At only 80 calories, a one-cup serving delivers crave-worthy flavor and beneficial vitamins and minerals, including four essential nutrients. Grabbing a boost of blue is an easy, convenient way for your clients, patients and other audiences to boost nutrition every day.
---
Blueberry Benefits at a Glance
Why grab a boost of blue? We've created a snapshot of key information, from blueberry nutrition and current health research to drool-worthy kitchen inspiration. To download our full infographic, simply click the button below the sample snapshots, then save and share!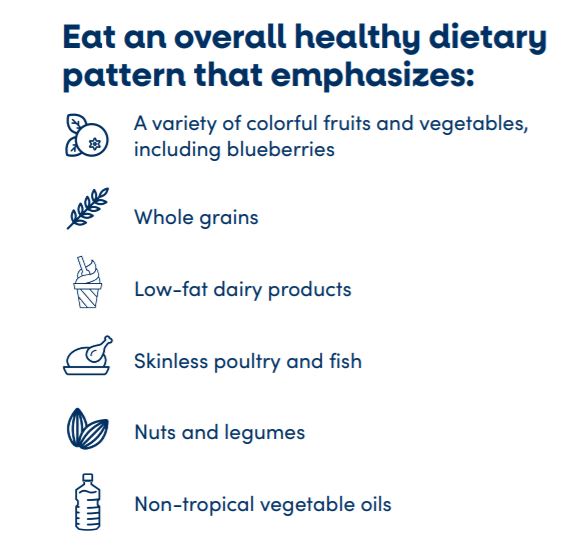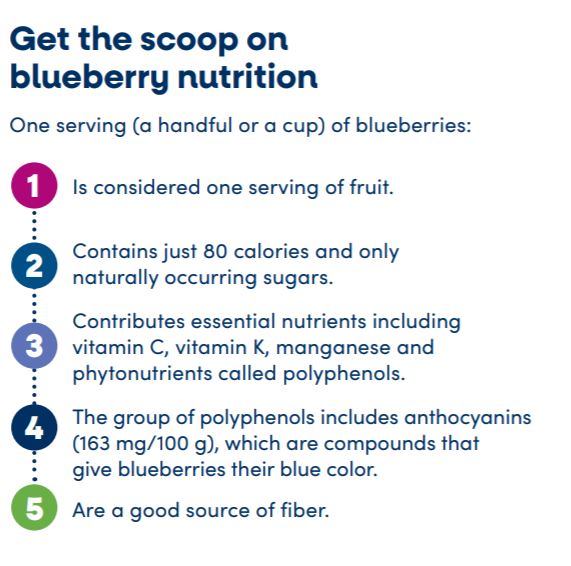 Click to Download the Full Infographic
---
Need-to-Know Nutrition Facts
Provides vitamins and minerals: Blueberries are a source of four essential nutrients – fiber, vitamin C, vitamin K and manganese. They also provide phytonutrients called polyphenols. This group includes anthocyanins (163.3 mg/100 g), which are compounds that give blueberries their blue color.

Good source of dietary fiber: Just one serving of blueberries can help you meet your daily fiber requirement! Dietary fiber may reduce the risk of heart disease and adds bulk to your diet, which may help you feel full faster.3-4

Good source of vitamin C: One serving of blueberries provides 16% of your daily vitamin C requirement!1 Not only does vitamin C support immune health, but it is necessary for growth and repair of tissues and promotes healing for wounds.2

Certified heart-healthy: Fresh and frozen blueberries are certified as heart-healthy through the American Heart Association's® Heart-Check Food Certification Program. The program offers an easy, reliable way to identify heart-healthy foods that can be part of a balanced eating plan.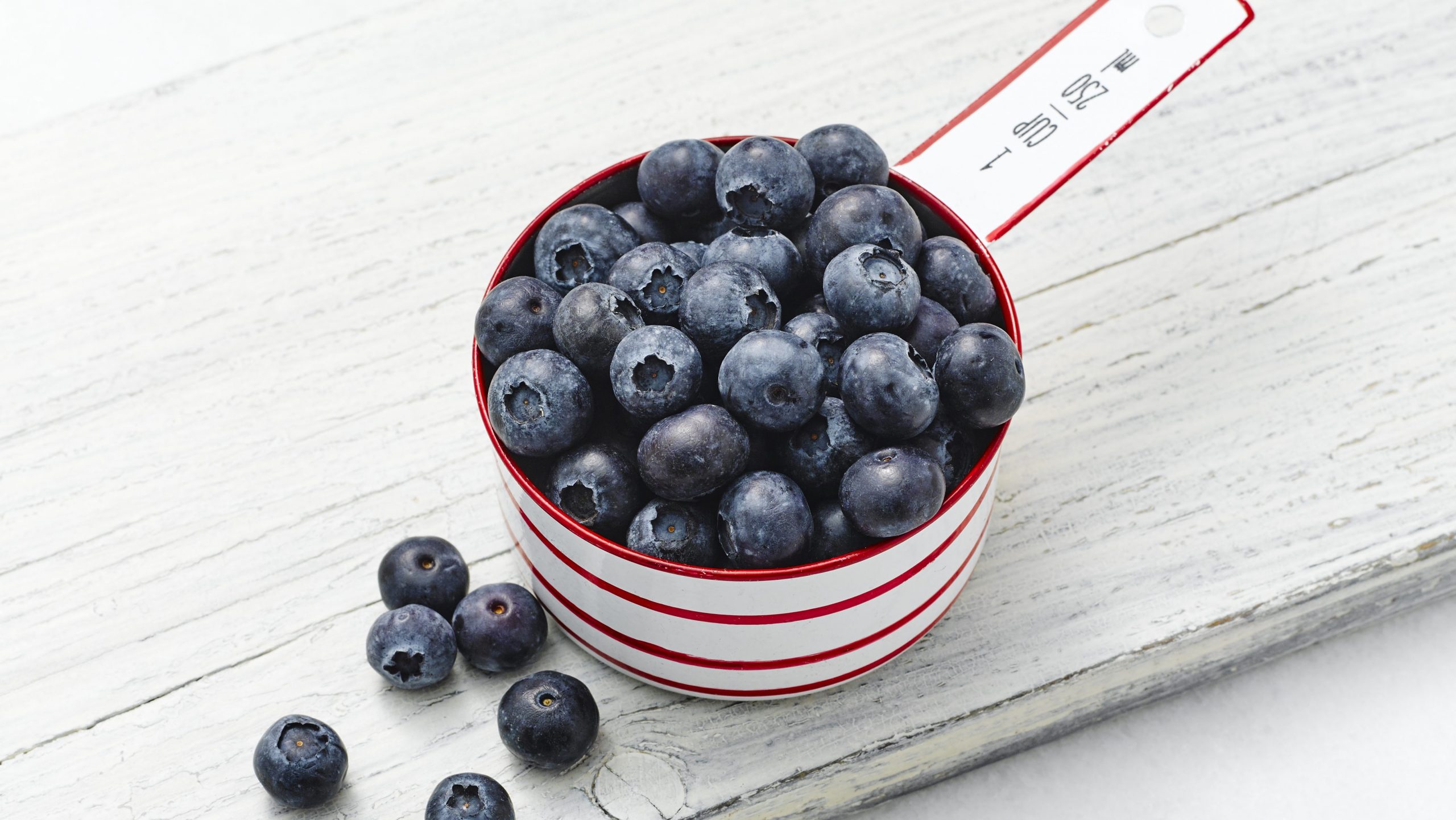 ---
Blueberry Nutrition Panels
Fresh Blueberries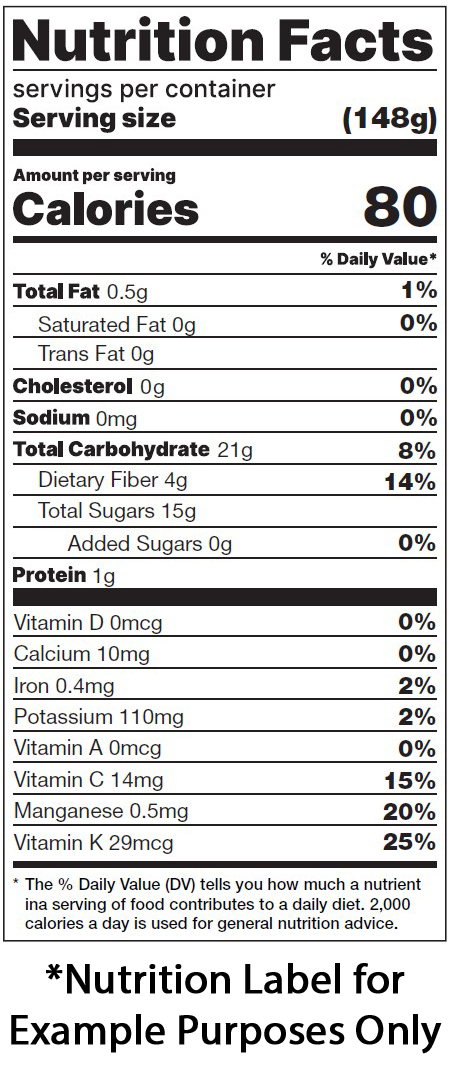 Good source of fiber
Good source of vitamin C
Excellent source of manganese
Excellent source of vitamin K
Virtually no fat
Frozen Blueberries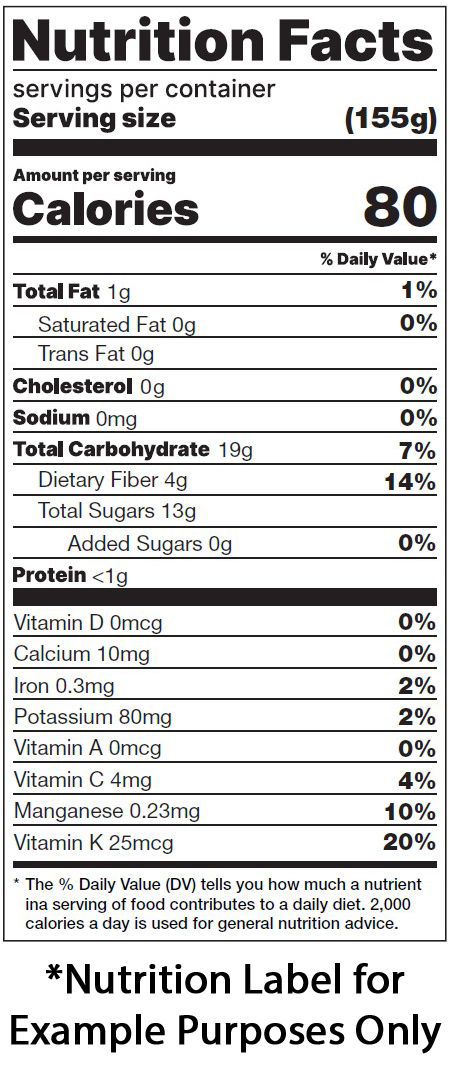 Good source of fiber
Good source of manganese
Excellent source of vitamin K
---
Scientific Resources
For more in-depth research on potential health benefits of blueberries, visit our Scientific Research page. Our peer-reviewed science library spans 18 health research topics.
Share the Blueberry Love!
Explore our library of Educational Resources for Clients and spread the knowledge on social media with our shareable recipes, images and more.